A highly selective institution, TCNJ is regarded for offering an exceptional education at a reasonable cost. TCNJ provides an interactive and supportive learning experience, where students collaborate with faculty members on innovative research and engage in discussion and analysis of relevant issues. The College's seven schools include Arts and Communication; Business; Culture and Society; Education; Engineering; Nursing, Health and Exercise Science; and Science.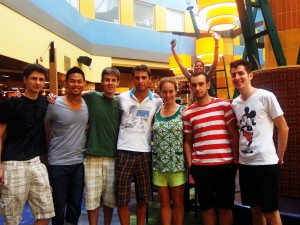 Known for its aesthetic beauty and ranked by the Princeton Review as one of the most beautiful in the country, TCNJ's campus is set on 289 tree-lined acres in suburban Ewing Township, within one hour of New York City, Philadelphia, and a number of coastal resort communities.
An assortment of campus activities, including student organizations, clubs, athletics, and recreational opportunities, enable students to enjoy a full campus life and enrich their college experience.
TCNJ has recently approved scholarship awards for qualified first-year, degree-seeking students who have been offered admission to the College. International students are considered an 'out-of-state' student at TCNJ, see 
current cost of attendance
.
About TCNJ
The following document provides prospective students with a snapshot of TCNJ as an institution:
Apply


Apply using The Common Application
You must submit the application online.
Codes: SAT CEEB: 002519 | ACT Code: 002614
Requirements
$75 application fee
There are two methods of making your non-refundable payment:
Submit payment through the Common Application
Mail check/money order by selecting "Fee Waiver" on the Common Application and mailing payment to The Office of Admissions, First-year Applicant. Payment must be in US currency and issued by a U.S. bank.
Academic Transcripts
All First-year applicants must submit official high school transcripts. Transfer Students must submit all College/University transcripts and, depending on the number of credits earned, secondary school transcripts. In most cases, transcripts must be submitted to a United States agency that provides foreign credentials evaluations before being sent to TCNJ; the following U.S. agencies have been approved by TCNJ. Students enrolled in an International Baccalaureate program, in the U.S. or overseas, do not have to submit their transcript to an evaluation agency.
Standardized Test Scores
SAT or ACT test scores are preferred and we recommend that applicants sit for the exam at least 2 months before the application deadline given the time it takes to receive and process the results. Starting with the Class of 2018, TCNJ will only accept SAT scores from the SAT that was redesigned in Spring 2016. While TCNJ superscores the SAT, the ACT is not superscored.
TOEFL or IELTS scores are required if English is not the applicant's native language.  A minimum score of 80 is recommended for the Internet Based TOEFL exam and a score of 7 or higher is recommended for the IELTS. However, if these minimum scores are not met, applicants may qualify for conditional admission to the institution if eligible for the College's Institute for English as a Second Language and American Studies
International Student Admissions Booklet
The forms contained within TCNJ's International Student Admissions Booklet for F-1 students include an Affidavit of Support & Financial Assistance, a Statement of Financial Cost Worksheet, a Doctor's Certification and an application for I-20, among additional required forms.  Additional information for international students can also be found on the International Student Services.
Essay
The Common Application essay, which provides a choice of several topics, is the official essay used in the evaluation process.
Academic Major
Student's must declare an official TCNJ program of study on our school's Common Application Member Form, which can ONLY be submitted online when completing the Common Application.  You cannot apply "undecided" to TCNJ.
Additional Program Requirements
All required documents should be mailed to:
The Office of Undergraduate Admissions – TCNJ
Attn:  International Applicant
Trenton Hall, Room 228
PO Box 7718
Ewing, NJ 08628
Deadlines
TCNJ offers International Students the opportunity to apply for both Fall and Spring terms.
Fall Admission
Application Deadline:  February 15
Supporting Documents Deadline: March 1
Notification of Decision: April 1
Spring Admission
Application Deadline: November 1
Supporting Documents Deadline: November 15
Notification of Decision: December 1
Other Deadlines
Applications for the seven-year medical program are accepted only for Fall admission and are due November 1st.  Please note that if you are not a U.S. citizen or permanent resident, you must obtain U.S. citizenship or permanent resident status by the time you enter NJMS.  Inquiries can be sent to the following address:  medcar@tcnj.edu.
Music applicants must complete their audition by November 19th for Spring Admission and February 28th for Fall Admission.
Visual Arts and Art Education applicants must submit their portfolio for departmental review by November 1st (Spring Admission) or February 16th (Fall Admission).