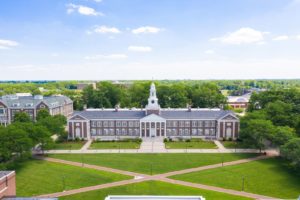 The College of New Jersey is a highly selective public residential college focusing on the undergraduate experience. Seven schools—the Arts and Communication; Business; Education; Engineering; Humanities & Social Sciences; Nursing, Health & Exercise Science; and Science—offering more than 50 liberal arts and professional programs.
Undergraduate Enrollment
Approximately 6,580 full-time students
Student Demographics
Self-Reported Ethnic / Racial Data from the Entering Class of 2023
Methodology:  How TCNJ cultivates and uses Race and Ethnicity data.
Average Class Size
21 students
Student-Faculty Ratio
13:1
On-Campus Freshmen
95 percent
Freshman-to-Sophomore Retention
93 percent
Graduation Rate
87 percent*
Average SAT Score
1270 for General Admits (Critical Reading and Math Only)
Housing
20+ residence halls provide a variety of living accommodations
Athletics
Consistently ranked among top NCAA Division III programs in the nation
Employers Recruiting on Campus
400+
Recent and Planned Construction
$250 million
*Graduation rate is based on a maximum of six years. TCNJ's rates far exceed national averages and surpass those of prestigious institutions like the University of North Carolina at Chapel Hill and New York University.
---