Known for its aesthetic beauty and ranked by the Princeton Review as one of the most beautiful in the country, TCNJ's campus is set on 289 tree-lined acres in suburban Ewing Township, within one hour of New York City, Philadelphia, and a number of coastal resort communities.
An assortment of campus activities, including student organizations, clubs, athletics, and recreational opportunities, enable students to enjoy full campus life and enrich their college experience.
TCNJ has recently approved scholarship awards for qualified first-year, degree-seeking students who have been offered admission to the College. International students are considered 'out-of-state' students at TCNJ. For more information, see the
current cost of attendance
.
About TCNJ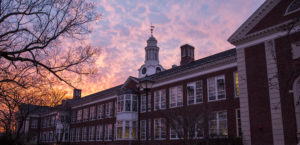 Highly respected by our country's top graduate schools and employers, a TCNJ education opens the doors to our students' choice of postgraduate studies and careers. Students work directly with faculty on research projects and gain other practical experience throughout their time at TCNJ. Outstanding internship opportunities—in the United States and abroad—help our students gain valuable credentials and qualifications to guarantee success in their careers.
The following document provides prospective students with a snapshot of TCNJ as an institution: TCNJ- A Gateway to Success for International Students.
At The College of New Jersey, international students and global U.S. citizens have access to the programs and people that will enrich their academic experience. Prospective students are encouraged to complete our prospect form to receive more information about the programs available at TCNJ.
International Student Prospect Form
Apply
First-year applicants may also apply using the Coalition Application, Powered by SCOIR.
All students must submit the application online.
Codes: SAT CEEB: 002519 | ACT Code: 002614
Requirements
$75 application fee
There are two methods of making your non-refundable payment:
Submit payment through the Common Application
Mail check/money order by selecting "Fee Waiver" on the Common Application and mailing payment to The Office of Admissions, First-year Applicant. Payment must be in US currency and issued by a U.S. bank.
TCNJ will waive a student's application fee if they submit one of the following:
College Board Fee Waiver
NACAC Fee Waiver
National Merit Semifinalist/National Achievement Fee Waiver
Common Application Fee Waiver (verified by school counselor)
A formal letter from a student's school counselor (must contain specific reasons why the counselor believes a waiver is necessary for this student)
Academic Transcripts
All First-year applicants must submit official high school transcripts. Transfer Students must submit all College/University transcripts and, depending on the number of credits earned, secondary school transcripts.
In most cases, transcripts must be submitted to a United States agency that provides foreign credential evaluations before being sent to TCNJ. TCNJ will accept foreign credential evaluations from any National Association of Credential Evaluation Services (NACES). Click here for a list of current NACES members approved by TCNJ.
SpanTran is a NACES company that has created a custom application for TCNJ students to make sure you get the right kind of evaluation at a discounted rate. You can begin the transcript request by clicking here.
In addition, most applicants applying for freshman (first-year) admission will need a document-by-document or a general report evaluation of your secondary transcript. All students applying for transfer admission in addition to the document-by-document evaluation will need a course-by-course evaluation converted to U.S. credits and grades for any college or university transcripts. All foreign institutions must have the equivalent to regional accreditation in the United States. Students enrolled in an International Baccalaureate program, in the U.S. or overseas, do not have to submit their transcript to an evaluation agency.
Standardized Test Scores
TCNJ is going test-optional (SAT or ACT) for the next three years starting with the 2020–21 admissions cycle. We take a holistic approach to the review of our applicants, considering student interests and involvement beyond academics.
While we will still welcome students to submit their test scores, our holistic approach to application review provides us with the flexibility to evaluate academic and extracurricular accomplishments within a student's individual context. There will also be additional opportunities throughout the application process for students to demonstrate their interest in our programs and their dedication to pursuing their field of interest at TCNJ.
* TCNJ will continue to require standardized test scores for our Accelerated Seven-Year Medical School opportunities.
**TCNJ will continue to require TOEFL or IELTS scores if English is not the applicant's native language or if English is not the language of instruction in the high school or university. A minimum score of 90 is recommended for the Internet-Based TOEFL exam and a score of 7.0 or higher is recommended for the IELTS.
International Student Admissions Booklet
The forms contained within TCNJ's International Student Admissions Booklet for F-1 students include an Affidavit of Support & Financial Assistance, a Statement of Financial Cost Worksheet, a Doctor's Certification and an application for I-20, among additional required forms. Additional information for international students can also be found on the International Student Services page.
Essay
The Common Application or Coalition Application essay, which provides a choice of several topics, is the official essay used in the evaluation process.
Academic Major
Students must declare an official TCNJ program of study on our school's Common Application Member Form, which can ONLY be submitted online when completing the Common Application. You cannot apply "undecided" to TCNJ.
Additional Program Requirements
Art, Education, Music, Seven-year Medical Program, Seven-year Optometry Program, Seven-year Physical Therapy Program, 3 Year Baccalaureate Degree
All required documents should be mailed to:
The College of New Jersey
Attention: International Admissions
PO Box 7718
Ewing, NJ 08628
USA
RaiseMe and Scholarships
Earn Scholarships from TCNJ on RaiseMe
We partnered with RaiseMe to offer micro-scholarships to eligible* international students while they are in high school, allowing you to start earning money for college while you are in high school. You can earn up to $1,500 per year.
If offered admission, the amount you earn on RaiseMe from TCNJ will be your guaranteed minimum amount of institutional
aid – you may receive even more in your scholarship or financial aid package once we review your completed application for admission.
*Eligible students must attend an International High School with an American-based curriculum or attend High
School in the U.S. on an International Student Visa.*
Merit Scholarships
All first-year international students admitted for the fall are automatically reviewed for scholarship eligibility. Your eligibility is based on several factors including, but not limited to:
the rigor of your curriculum
academic performance (high school and/or university grades/marks)
standardized test results (if submitted)
recommendation letters from academic teachers
application essay
community service, honors, awards, and activities
Admitted students will be notified of their scholarship eligibility along with their acceptance package. These scholarships are renewable for up to four years.
Deadlines
TCNJ offers International Students the opportunity to apply for both Fall and Spring terms, as well as apply for Early Decision.
Fall (General) Admission
Application Deadline: *Extended Deadline – February 15
Supporting Documents Deadline: *Extended Deadline – March 1 
Notification of Decision: No later than April 1* (for students applying by the original February 1 deadline)
Spring Admission
Application Deadline: November 1
Supporting Documents Deadline: November 15
Notification of Decision: December 1
Early Decision I**
Application Deadline: November 1
Supporting Documents Deadline: November 15
Notification of Decision: December 1
Other Deadlines
Applications for the seven-year medical program*** and the seven-year optometry program are accepted only for Fall admission and are due November 1st.
Applications for the seven-year physical therapy program are accepted only for Fall admission and are due December 1st.
Music applicants must complete their audition by March 15th (Fall Admission) or November 19th (Spring Admission). For Early Decision, applicants must complete their audition by November 19th (Early Decision I).
Visual Arts and Art Education applicants must submit their portfolio for departmental review by February 16th (Fall Admission) or November 1st (Spring Admission). For Early Decision, applicants must submit their portfolio by November 1st (Early Decision I).
*
The College of New Jersey prides itself on giving every application the most thorough review possible. While TCNJ makes every effort to notify students regarding their admission decision as early as possible (starting in early March), some applications will undergo multiple reviews before a final decision is made. Therefore, the Admissions Office can only guarantee that a general admission decision will be mailed prior to April 1st, no matter how early the student applies.
**Students accepted through the Early Decision programs MUST attend The College of New Jersey. Early Decision students will be given the same consideration for scholarships as those applying for Fall or Spring Admission.
***Please note that if you are not a U.S. citizen or permanent resident, you must obtain U.S. citizenship or permanent resident status by the time you enter New Jersey Medical School. Inquiries can be sent to the following address: 7year@tcnj.edu.